Conference Outline
The 14th Conference of Korean Society for Mitochondrial Research and Medicine
The 11th Symposium of the Mitochondrial Section of KSMCB
Titles for oral sessions follow,
1. Molecular aspects of mitochondria and diseases
2. Mitochondria in inter- and intra-cellular communications
3. Presidential lecture by Professor Minho Shong
4. Recent progress on mitochondria in biology and medicine
5. Mitochondria as clinical focal points
Mitochondria are essential for various physiological processes, including cellular energetics, metabolism, signaling, apoptosis, cell cycle, differentiation and aging. Mitochondria are also emerging as focal points for medical research, because their defects are implicated in many human diseases, ranging from metabolic to neurodegenerative diseases. At our meeting entitled "OVERCOME: Ongoing Voyage of Exciting Research Communications On Mitochondrial Enigma", researchers will share and discuss the most recent and exciting knowledge of mitochondria in biology and medicine. The meeting will be held as an online (for audience) and offline (for presenters, moderators and organizers at Grand Josun hotel, Busam) hybrid format from 9 AM to 5 PM on Friday, October 8th.
Topics of posters include,
Mitochondrial biology: metabolism, biogenesis, electron transport chain, TCA cycle, mitophagy, mitochondrial DNA, organelle communication, proteostasis and quality control, omics, calcium signaling and cell death Mitochondria in medicine: metabolic disease, neurodegenerative disease, genetic disease, preclinical models, biomarkers of disease progression, drugs, molecular therapy
KSMRM 2020 'OVERCOME'
Date: 2020.10.08(Tue)
Official language: Korean
Co-Organized by
Cardiovascular Metabolic Disease Center of Inje University, Yonsei University Wonju College of Medicine Mitohormesis Research Center
Organized by
Korean Society for Mitochondrial Research and Medicine(KSMRM), Mitochondrial Section of Korean Society for Molecular and Cellular Biology(KSMCB)
Important Dates
Pre-registration Due Date: 2020.09.25(Fri)
Registration Deadline:2020.10.07(Wed)
Abstract Submission Deadline: 2020. 09.25(Fri)
Poster Submission Deadline: 2020.10,07(Thurs)
Registration Fee
| | |
| --- | --- |
| Category | Pre-registration(till Sep 25), Registration(till Oct 7) |
| Student | 50,000 Won |
| Professor/Post Doctor and Researcher | 100,000 Won |
※ Do Register and Get 20% OFF for Next Conference!
Program at a glance
Thurday, October 8, 2020

09:20

~

09:30

Opening Address

Jin Han (President of KSMRM)

Session 1

Molecular Aspects of Mitochondria and Diseases

Chairperson: Dongryeol Ryu (Sungkyunkwan University)

09:30

~

09:50

Mapping the Mitochondrial Proteome in Aging and Disease

Jae Myoung Suh (KAIST)

09:50

~

10:10

Mitochondrial Glutamine Transport and Cancer

Jung Min Han (Yonsei University)

10:10

~

10:30

Mitochondria and Innate Host Defense

Eun-Kyeong Jo (Chungnam National University)

10:30

~

11:00

Coffee Break (+ Poster Viewing)

Session 2

Mitochondria in Inter-and Intra-Celluar Communications

Chairperson: Joo-Yeon Yoo (Pohang University of Science and Technology)

11:00

~

11:20

Nuclear-encoded N-formylmethionyl Proteins in Cancer Cells

Cheol-Sang Hwang (Pohang University of Science and Technology)

11:20

~

11:40

Caspase 9 is Essential for Autophagosome Maturation through Regulation of Mitochondrial Homeostasis

Seong-Woon Yu (DGIST)

11:40

~

12:00

Evolutionary Relationship between Two Endosymbiotic Organelles, Mitochondria and Chloroplasts, Elucidated by the Protein Targeting Mechanisms

Inhwan Hwang (Pohang University of Science and Technology)

12:00

~

13:30

Lunch

Session 3

Presidential lecture

Chairperson: Myung-Shik Lee (Yonsei University)

13:30

~

14:10

Cell autonomous and non-autonomous regulation of mitochondrial proteostasis in mammal

Minho Shong (Chungnam National University)

Session 4

Recent Progress on Mitochondria in Biology and Medicine

In-Kyu Lee (Kyoungpook University)

14:10

~

14:30

Stem Cells and Mitochondrial Diseases

Jae Ho Kim (Pusan National University)

14:30

~

14:50

Location Improves Pancratic β Cell Mass and Function through Serotonin Production

Hail Kim (KAIST)

14:50

~

15:10

Growth Differentiation Factor 15 Protects against Aging-mediated Systemic Inflammatory Response in Humans and Mice

Hyon-Seung Yi (Chungnam National University)

15:10

~

15:40

Coffee Break (+ Poster Viewing)

Session 5

Mitochondria as Clinical Focal Points

Chairperson: Young-Mock Lee (Yonsei University)

15:40

~

16:00

Mitochondrial Diabetes and Mitochondrial DNA Mutant Load in MELAS

Hyun-Wook Chae (Yonsei University)

16:00

~

16:20

Mitochondrial DNA Mutant Load of A3243G Mutation and Clinical Correlation in Neurology

Ha Neul Lee (Yonsei University)

16:20

~

16:40

Effectivity and Safety of Corpus Callosotomy to Intractable Epilepsy of Mitochondrial Dysfunction

Ji-Hoon Na (Ewha Womans University)

16:40

~

17:00

Closing remarks

Chairperson: Hong Kyu Lee(Honorary President of KSMRM, Advisor at PAEAN Biotechnology Inc.)
Plenary Lecture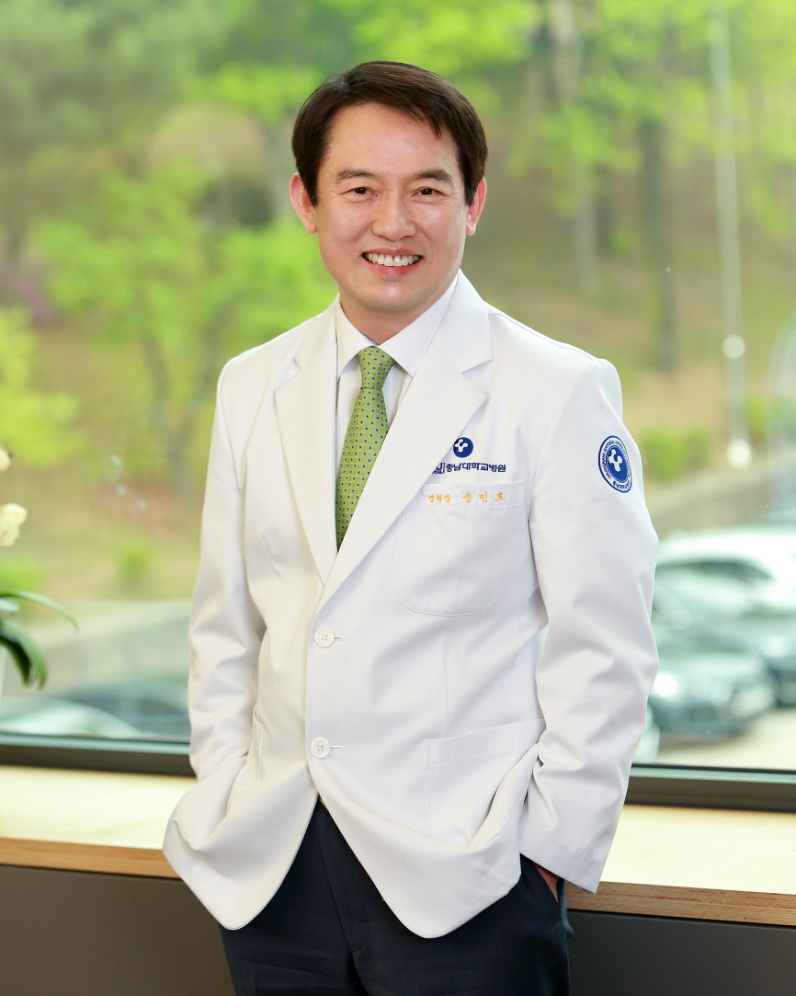 Minho Shong
Chungnam National University School of Medicine, South Korea
CURRICULUM VITAE
Plenary Lecture Topic
Cell Autonomous and Non-autonomous Regulation of Mitochondrial Proteostasis in Mammal
Abstract
Interorgan Coordination of Organ-specific Mitoribosomal Stress Response
Mitoribosome is essential in cell viability, growth, differentiation and function.(Greber and Ban, 2016; Ott et al., 2016). Loss or mutations of any of the 78 proteins in mitoribosomal components might affect the mitoribosomal RNA processing and produce human mitochondrial disorders (Sylvester et al., 2004). In fact, the expression of genes encoding for mitoribosomal proteins (MRPs), mitoribosome assembly factors and mitochondrial translation factors is modified in numerous diseases (De Silva et al., 2015) (Kim et al., 2017a). Mutations of the single component of MRPs frequently do not fully inactivate mitoribosomal function resulting diminished oxidative phosphorylation capacity. Although all of the MRPs genes are candidate for primary mitochondrial disease, but only a small numbers of MRPs mutations (MRPL9, MRPL27, MRPL45) manifest diabetes (Sylvester et al., 2004). These findings indicate that the mutations of MRPs may also manifest in a tissue-specific manner that give rise to a spectrum of disorders including diabetes. Surprisingly, it has been demonstrated that linkage of MRPs with organismal lifespan (Houtkooper et al., 2013). These observations suggest that functional expression level of MRPs may affect tissue homeostasis and organismal health.
Reduced mitochondrial electron transport chain activity promotes longevity and improves energy homeostasis via cell-autonomous and –non-autonomous factors in multiple model systems. This mitohormetic effect is thought to involve the mitochondrial unfolded protein response (UPRmt), an adaptive stress-response pathway activated by mitochondrial proteotoxic stress. Using mice with skeletal muscle–specific deficiency of Crif1 (muscle-specific knockout [MKO]), an integral protein of the large mitoribosomal subunit (39S), we identified growth differentiation factor 15 (GDF15) as a UPRmt-associated cell–non-autonomous myomitokine that regulates systemic energy homeostasis. MKO mice were protected against obesity and sensitized to insulin, an effect associated with elevated GDF15 secretion after UPRmt activation.
To identify the differential effects of mitokines, GDF15 and FGF21 on the metabolic phenotype of adipocyte-specific Crif1 (also known as Gadd45gip1) knockout (AdKO) AdKO mice, we generated AdKO mice with global Gdf15 knockout (AdGKO) or global Fgf21 knockout (AdFKO). Under high-fat diet conditions, AdKO mice were resistant to weight gain and exhibited higher EE and improved glucose tolerance. In vivo genetic inhibition of OxPhos in adipocytes significantly upregulated mitochondrial unfolded protein response-related genes and secretion of mitokines such as GDF15 and FGF21. We evaluated the metabolic phenotypes of AdGKO and AdFKO mice, revealing that GDF15 and FGF21 differentially regulated energy homeostasis in AdKO mice. Both mitokines had beneficial effects on obesity and insulin resistance in the context of decreased adipocyte OxPhos, but only GDF15 regulated EE in AdKO mice. Our data from AdGKO mice fed an HFD for 8 weeks revealed that long-term induction of GDF15 in AdKO mice attenuated progression of obesity in this context through increased EE. Our findings in AdFKO mice suggested that prolonged induction of FGF21 in AdKO mice did not affect EE, but remarkably ameliorated HFD-induced obesity and insulin resistance. The present study demonstrated that the muscle and adipose tissue adaptive mitochondrial stress response affected systemic energy homeostasis via cell-autonomous and non-cell-autonomous pathways.

KOREAN SOCIETY FOR MITOCHONDRIAL RESEARCH AND MEDICINE
KOREAN SOCIETY FOR MITOCHONDRIAL RESEARCH AND MEDICINE